We can't wait to see you at SupplySide West, coming up in Las Vegas from November 8-9. Every year, we join more than 1,300 exhibitors and a total of 16,000 vendors and buyers covering the full spectrum of the natural products market, from the dietary supplement to the function food and beverage, personal care and sports nutrition industries. SupplySide West focuses on the fusion of science and strategy to support the natural products industry as it continues a rapid trend of upward growth.

Attending the Show for the 14th consecutive year, NP Nutra® will showcase over 90 premium ingredients from our most popular categories. In addition to the best-selling Signature Ingredients, we will also feature products from Nutra Flow, Nutra Organics, Nutra Pet, Superfruits, Supergreens and the Plant Protein categories.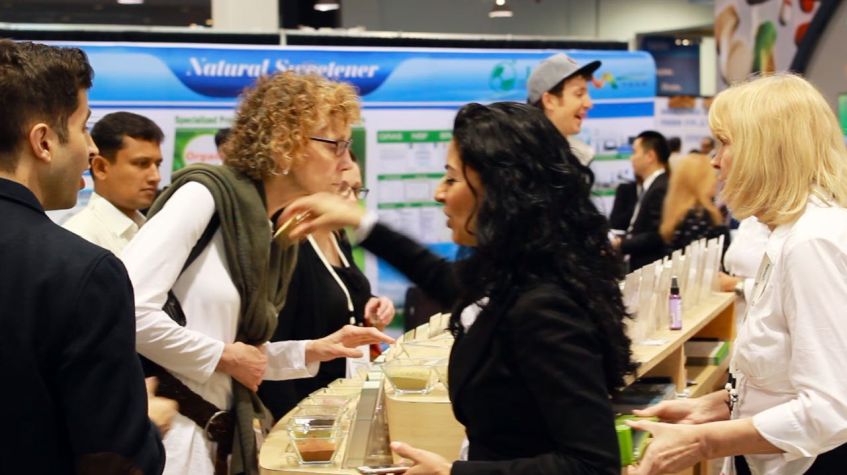 Illustrating the rapid rise in interest of natural products, the plant-based market is on track to reach $5.2 billion by 2020, having increased by a staggering 20% in 2017 compared to a 2% growth for all foods.1 "Plant-based" is now a buzzword that transcends formerly narrow market segments, reaching a growing consortium of consumers who are concerned about their health, their weight, their mental and physical stamina, and the environment. Among all the rising stars of the natural products industry, one category stands out - introduction of plant-based protein products grew twice as fast as products with animal protein in 2014. With US sales of over $553 million in 2012, plant-based proteins are leading the pack as a fast, effective and increasingly delicious way for consumers to incorporate peak nutrition into their diet.2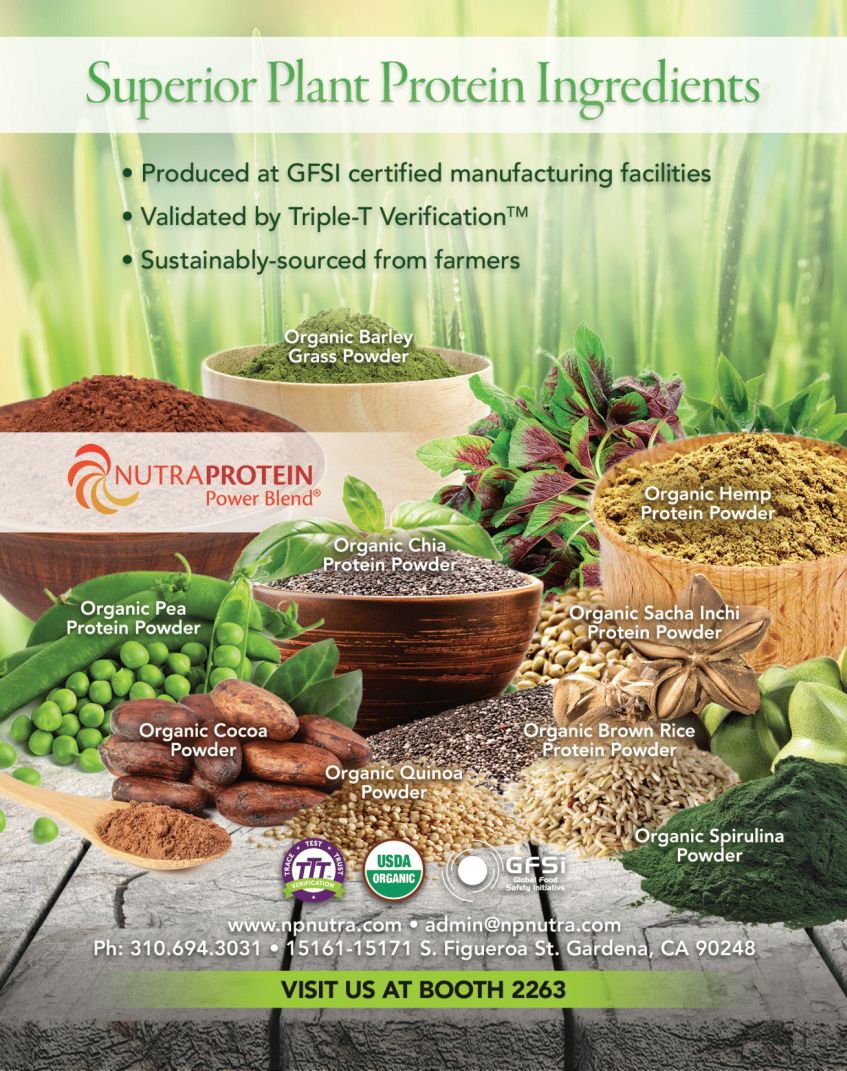 At NP Nutra®, we've long believed that high quality, responsibly sourced, organic plant-based protein powders are the backbone of our product line. That's why we've put so much time and energy into making sure we remain at the forefront of the industry, discovering new sources of plant proteins and formulating our own unique signature blends. This year, we're proud to share with you a growing line of delicious and nutritious plant-based protein powders, which include:
NutraProtein Power Blend® - Greens (organic)
In addition, we're excited to introduce a range of new plant-based powders with applications in functional foods and beverages as well as cosmetics, dietary supplements, sports nutrition and pet foods:
| Image | NP Nutra Ingredient | Benefits and Possible Applications |
| --- | --- | --- |
| | Banana Juice Powder (NutraFlow) | High in fiber, Vitamins C and B6, potassium and manganese, banana also contains Fructooligosaccharides (FOS), naturally occurring sugars that promote "beneficial" microflora and promote intestinal health. |
| | Guarana P.E. 9-11% (organic) | Has been used in Traditional Chinese Medicine for thousands of years to enhance mental alertness and memory, increase energy and stamina. |
| | Parsley Powder (organic) | Native to the central Mediterranean region, antioxidant-rich parsley is also especially rich in folic acid, vitamin K, vitamin C and vitamin A. |
| | Phyllanthus Nirruri P.E. 2% | This Ayurvedic herb contains alkaloids, lignans, amarin, gernanin, corilagin and rutin. Numerous research studies indicate that this potent herb may have antioxidant and anti-inflammatory properties. |
At NP Nutra's Booth 2263, customers will have the opportunity to not only see but sample each of the 90 featured premium ingredients. If you haven't yet purchased your $99 Expo Pass, use this special link. Also, don't forget to connect with your account manager and set up an appointment to discuss your special needs or just drop by and say hi!
What a great show last week in Mandalay Bay, Las Vegas! Thanks for all your surprise visits to our Booth.
We're excited for all the wonderful opportunities that presented themselves, and look forward to building closer relationships and partnering on countless exciting new projects for 2019!
All the best,
The NP Nutra® Team
References:
1 https://plantbasedfoods.org/why-plant-based/
2 ibid