Do Americans like chocolate? According to the National Confectioners Association they most certainly do. 52 percent of the US population prefer chocolate as their favorite flavor. Around the world, Switzerland is the number one consumer of chocolate, with 19.4 pounds per person per year, followed by Germany (17.8), Ireland (17.4), UK (16.8) and Sweden (14.6). That is an enormous amount of chocolate!
Each year, chocolate sales around the world reach more than $98.2 billion. and $22.4 billion of those occur in the US.
Chocolate preparations are mostly sweet but can be bitter depending on the amount of cacao used. It can be in the form of a liquid, paste, powder or block and is also used as a flavoring ingredient in many functional food and beverage applications.
Although the majority of chocolate products on the market are made from roasted ground cacao seeds, some products use unroasted (sundried) cacao beans. Raw cacao is made by cold-pressing un-roasted cacao beans. The process retains the living enzymes in the cacao and removes the fat (cacao butter). Cocoa powder, on the other hand, is raw cacao that has been roasted at high temperatures.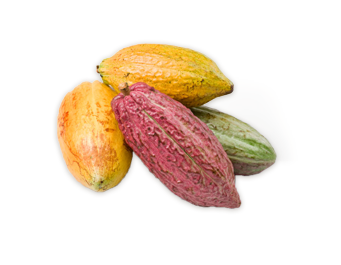 Both cacao and cocoa contain many nutrients including flavonoids, B vitamins, minerals such as copper, manganese, magnesium, calcium, iron, zinc, potassium, selenium, chromium, amino acids fatty acids, theobromine and small amounts of caffeine.
In addition, Phenylethylamine (PEA) is a compound found in cacao that helps stimulate the production of dopamine in the body.
While common in sweets such as baked goods, candies, puddings, shakes, and sauces, chocolate is also used in savory foods including dressings, bean chili, potato chips, pasta, and even rice dishes. Many cosmetic, hair and skincare products also use chocolate as a main or supplemental ingredient.
NP Nutra® offers premium Cacao and Cocoa products including Cocoa Powder (organic), Cacao Nibs (organic raw) and Cacao Powder (organic, unroasted). All are produced in FSSC 22000 certified partner facilities validated by our own Triple-T Verification® program. For more information on the products showcased, please feel free to contact your Account Manager or request free samples and literature.
Product
Specifications
Extraction/Drying Method
Applications
Cocoa Powder (organic)

Country of Origin: Ecuador
Part used: Cocoa beans
Appearance: Fine brown powder
Certifications: Organic, Kosher and Food grade
Produced in FSSC 22000 certified facility
Convection-dried
Functional foods
Functional beverages
Dietary supplements
Cosmetics
Cacao Nibs (organic, raw)

Country of Origin: Peru
Part used: Seed
Appearance: Small brown cut pieces
Certifications: Organic, Kosher and Food grade
Produced in FSSC 22000 certified facility
Raw
Functional foods
Functional beverages
Dietary supplements
Cosmetics
Cacao Powder (organic, unroasted)

Country of Origin: Peru
Part used: Raw cacao cake
Appearance: Fine, reddish brown powder
Certifications: Organic, Kosher and Food Grade.
Produced in FSSC 22000 certified facility.
Air-dried
Functional foods
Functional beverages
Dietary supplements
Cosmetics
References:
https://smallbusiness.chron.com/large-chocolate-industry-55639.html
https://www.worldatlas.com/articles/which-countries-eat-the-most-chocolate.html
https://brandongaille.com/51-chocolate-industry-statistics-and-trends/