In a recent market research report, the plant-based protein market was projected to reach $23.4 billion by 2028, a CAGR of 9.7% from 2021 to 2028. Consumer interest in boosting plant protein intake is driven by increased awareness of the health benefits of plant protein in supporting an active lifestyle, a desire for clean label products, ease of digestion, the need by some to avoid allergens, compatibility with vegan and vegetarian lifestyles, and sustainability concerns. Organic plant-based protein products are especially popular with consumers in limiting intake of harmful pesticides and for the environmental benefits.1 Learn about how our new organic PlantPWR™ Protein Blend can help you take advantage of the growing plant protein trend.
>72% PROTEIN
Plant-Based – Complete Protein – Clean Label
PlantPWR™ Protein Blend (organic), our proprietary plant-based protein powder, is a great alternative to soy and dairy.
Brown rice, Pea, Pumpkin seed and Sacha inchi seed are combined to form a complete protein powder that contains:
All the Essential Amino Acids, including the Branched Chain Amino Acids (leucine, isoleucine and valine), which are of particular importance in muscle growth, repair and maintenance.
Non-Essential Amino Acids
Vitamins, minerals, phytonutrients, fiber and fatty acids
100g powder contains >72g Protein, and approx. 7g Fat and 7g Dietary fiber
No fillers, additives, sugars or artificial sweeteners, and non-GMO
Organic – USDA, Canada, EU *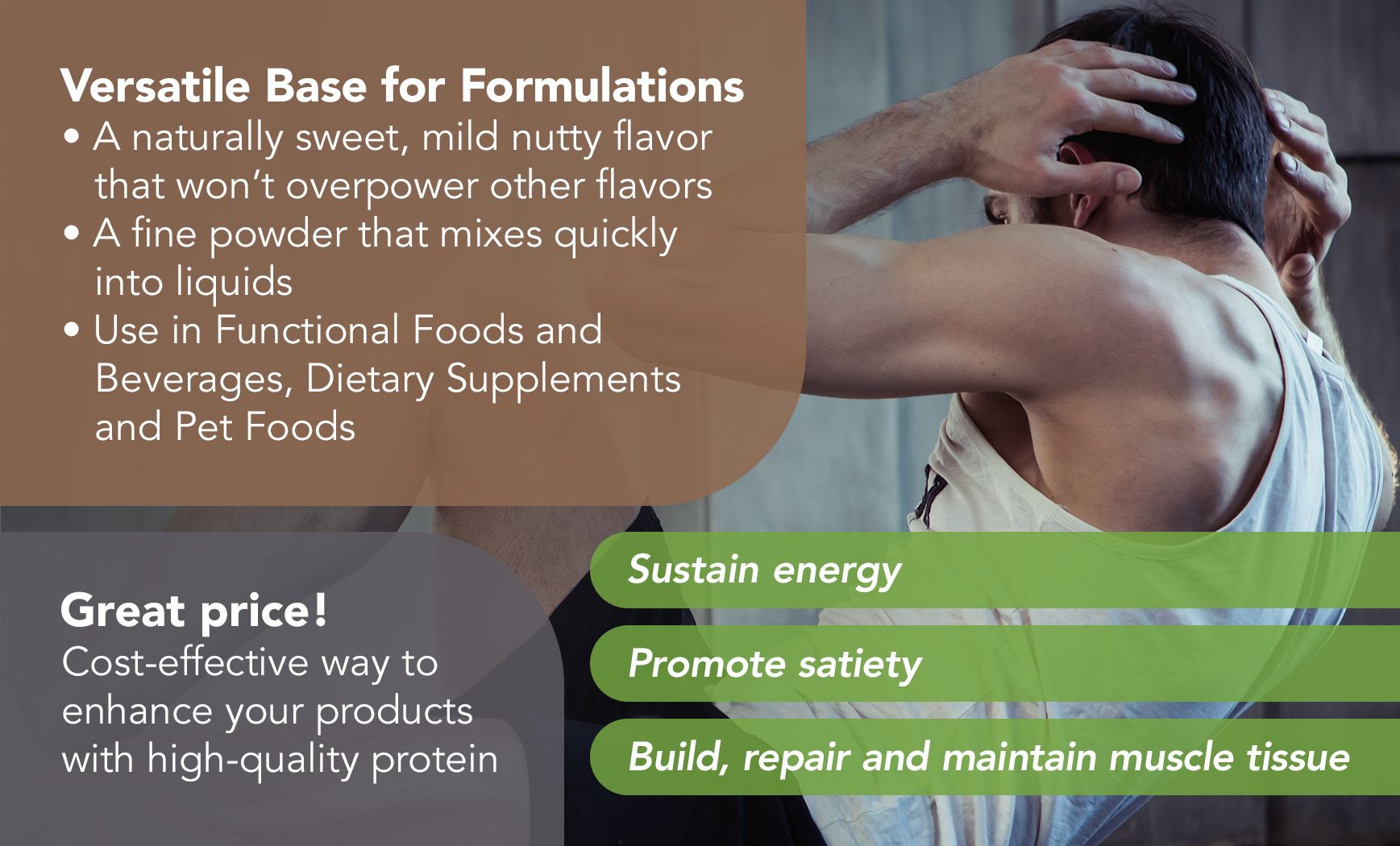 Customize your Protein products
With a minimum of 72% protein, our organic PlantPWR™ Protein Blend can be combined with our other nutritious powders to produce high-quality consumer protein products.
Greens - Alfalfa grass, barley grass, broccoli, chlorella, kale, moringa leaf, oat grass, spinach, spirulina, wheatgrass

Berry - Acai, blueberry, elderberry, goji, grape, jabuticaba, maqui, pomegranate, raspberry, sea buckthorn, strawberry

Tropical - Acai, banana, baobab, cupuacu, dragonfruit, jabuticaba, lucuma, mango, papaya, passionfruit, pineapple, coconut milk, coconut water, MCT oil

Chocolate - Cocoa, coconut milk, MCT oil

Matcha - Matcha Berry, Matcha Greens, Matcha Energy, Tropical Matcha, Coconut Milk Matcha, Cocoa Matcha

Keto - MCT oil, coconut milk, berries, greens, matcha, cocoa

Adaptogens - Amla, ashwagandha, astragalus, goji, maca, panax ginseng, reishi

Other protein powders - Chia, hemp, chlorella, spirulina

Natural sweeteners - Lo han guo, lucuma, stevia

Spices - Ceylon cinnamon, ginger, turmeric
Contact us for a free sample and further product information.
References:
1 Plant Based Protein Market Worth $23.4 Billion By 2028 - (globenewswire.com)