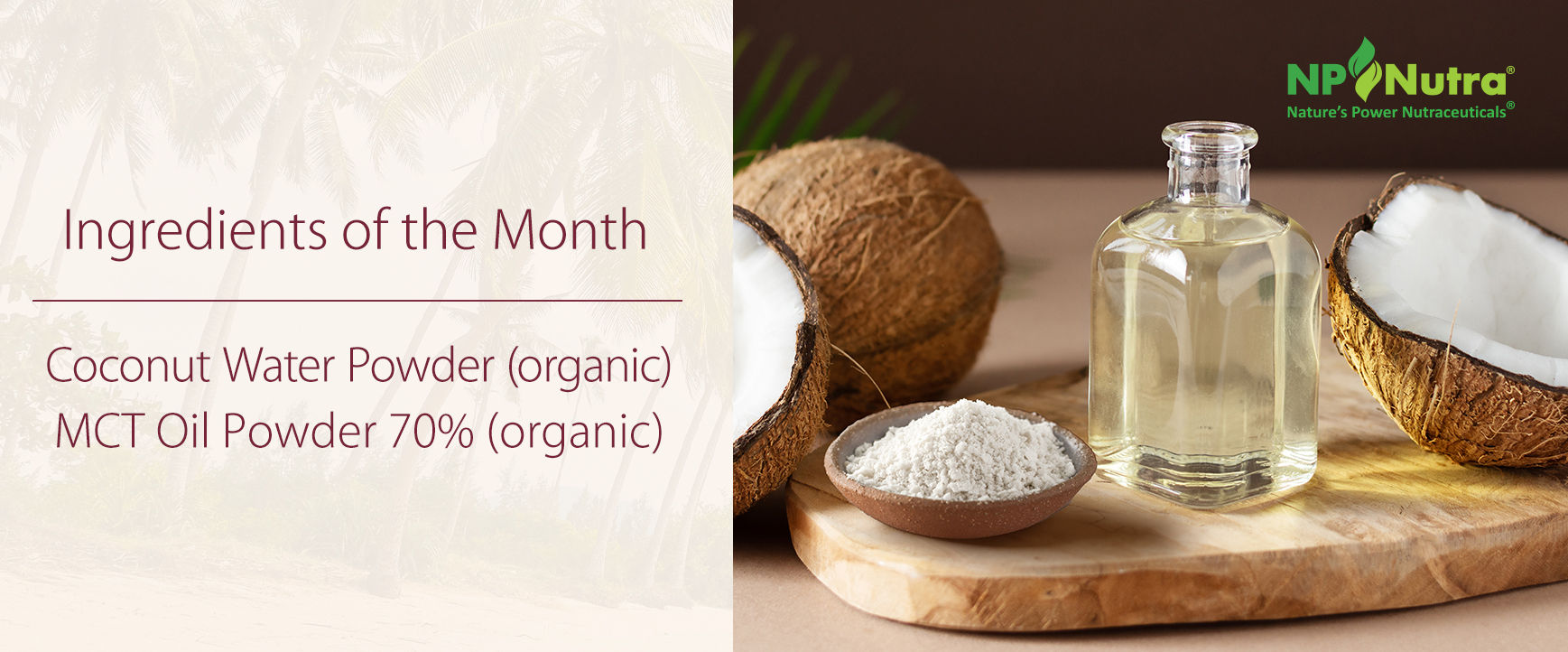 A Nourishing Gift from the Tropics
Check out two of our most popular coconut powders!
Medium chain triglycerides (MCTs) have risen in popularity as consumers learn about their health benefits and as more people follow ketogenic diets, reducing the consumption of simple carbohydrates and increasing the consumption of nutritious fats and complex carbohydrates.
Nutrition
MCTs are easily metabolized in the body due to their relatively short chemical structure. Unlike most other fats, when MCTs are processed in the body they go straight from the gut to the liver where they are rapidly converted into ketones (when there is a shortage of carbohydrates) to provide energy. In the absence of glucose, the brain can also use ketones for energy.

Additionally, the acacia gum (acacia fiber) in our MCT oil powder acts as a prebiotic, beneficial for gut health, which results in the improved health of other body systems.*
Specifications
Product name: MCT Oil Powder 70% (organic)
Botanical source: Cocos nucifera
Part used: MCT oil
Drying method: Spray dried
Solubility: Partly soluble
Country of Origin: Canada
Certifications: Organic, Kosher and Food grade
Produced in a BRC certified facility

MCT content ≥ 70%
>70g Medium-chain triglycerides per 100g powder
Caprylic Acid (C8:0) % weight: 50-60%
Capric Acid (C10:0) % weight: 35-45%
Lauric Acid (C12:0) % weight: >10%
Applications
Organic MCT Oil powder is a partly soluble, highly dispersible powder that has a smooth consistency in liquids and a mild coconut oil flavor. It is ideal in:
Functional foods and beverages
Keto-friendly products
Weight management products
Nutritional supplements
Pet foods and supplements
The refreshing water from young green coconuts is a naturally sweet, isotonic, all-natural hydration drink, which makes it popular in a wide range of beverages. A convenient format, powdered coconut water can be reconstituted to produce RTD beverages and can also be added to a variety of foods, dietary supplements, cosmetics and pet care products.
Nutrition
Coconut water is rich in natural electrolytes, especially magnesium and potassium, and is a rich source of cytokinins (plant hormones that support cell growth).
Specifications
Product name: Coconut Water Powder (Organic)
Botanical source: Cocos Nucifera
Part used: Coconut water
Drying method: Spray dried
Solubility: Soluble
Country of Origin: Indonesia (sustainably grown using traditional farming practices)
Certifications: Organic, Kosher and Food grade
Produced in an FSSC 22000 certified facility

Applications
Highly soluble with a mildly sweet coconut water flavor, organic Coconut Water Powder is ideal in:
Functional foods: Soups, sauces, dressings, snacks, candies, chocolates, desserts
Functional beverages: RTD beverages (juices, smoothies, sodas, and energy and hydration drinks)
Dietary supplements: Hydration, sports, energy and superfood powders, tablets and capsules
Cosmetics: Lotions, facial cleansers, body washes, soaps, masks, scrubs, shampoos and conditioners
Pet care: Treats, supplements, shampoos and conditioners